Hondo Ridge Neighborhood
La Vernia, Texas
Hondo Ridge is a beautiful newly developed neighborhood in the esteemed La Vernia community. Discover outstanding new homes, each on 1+ acre of wooded countryside, with Fiber Internet available! Situated in wonderful rural surroundings, under 10 minutes to the amenities of La Vernia, with San Antonio's big city conveniences within an easy 35-minute country drive.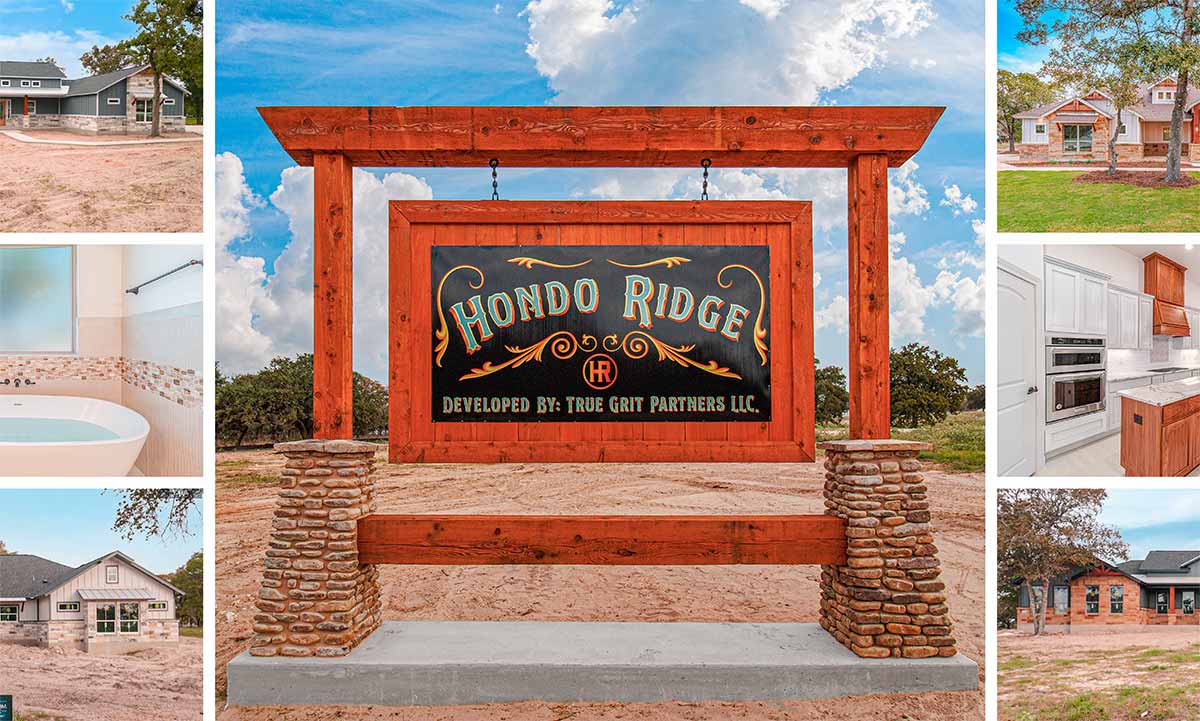 UNDER CONSTRUCTION Projected Completion: December 2023 4 bed, 4.5 ba. 2950 sqft, 1.00 acres Preliminary Price: $749,900
UNDER CONSTRUCTION Projected Completion: December 2023 4 bed, 3.5 ba. 2844 sqft, 1.00 acres Preliminary Price: $714,900
UNDER CONSTRUCTION Projected Completion: March 2024 4 bed, 3.5 ba. 2819 sqft, 1.00 acres Preliminary Price: $714,900
UNDER CONSTRUCTION Projected Completion: December 2023 4 bed, 3.5 ba. 2704 sqft, 1.00 acres Preliminary Price: $689,900
UNDER CONSTRUCTION Projected Completion: March 2024 4 bed, 3.5 ba. 2696 sqft, 1.00 acres Preliminary Price: $689,900
UNDER CONSTRUCTION Projected Completion: January 2024 4 bed, 3.5 ba. 2694 sqft, 1.00 acres Preliminary Price: $689,900
Privacy Policy
Introduction
www.fulmerrealty.com ("we", or "us") respects your privacy and is committed to protecting it through our compliance with this Privacy Policy.
This Privacy Policy describes (i) the types of information we collect from you or that you may provide when you visit this website ("Website"), (ii) our practices for collecting, using, maintaining, protecting, and disclosing your information, and (iii) the choices you can make about the way in which your information is collected and used when you visit our Website or use our services.
This Privacy Policy applies to information we collect when you visit our Website, information you provide when you visit our Website, information we receive from third parties, and information you provide to us if we contact you by other means, such as telephone, text message and/or email.
Please read this Privacy Policy carefully to understand our policies and practices regarding your information and how we will treat it. If you do not agree with our policies and practices, your choice is not to use our Website or services. By accessing or using this Website or our services, you agree to this Privacy Policy. This Privacy Policy may change from time to time – please see Changes to This Privacy Policy below for more information.
Information Collection
We collect several types of information from and about users of our Website:
Information You Provide
You do not have to give us any personally identifiable information in order to access and browse our Website. However, you may choose to submit information to us while using various features on our Website. For example, you may be asked to provide personally identifiable information, such as your first and last name, phone number, and email address, when you request information about a property listing or fill out a form on our Website, including the Contact Us form. You may also be asked to provide personally identifiable information if you create an account with us.
If you choose to provide testimonial information or ratings about our properties or services, any information that you submit will be visible to and may be read, collected, or used by others who use our Website. We are not responsible for any information, including personally identifiable information, you choose to provide in such testimonials or ratings.
Our Website may include features operated and powered by third parties, such as mortgage or down payment calculators. Any information you submit to a third party is subject to their privacy policy. We have no control over and assume no responsibility for the privacy policies or practices of such third parties, and we strongly encourage you to review each party's privacy policy before submitting personally identifiable information.
Information We Collect
As you navigate through and interact with our Website, we may use automatic data collection technologies to collect certain information about your equipment, browsing actions, and patterns, including:
Details of your visits to our Website, including traffic data, location data, logs, and other communication data and the resources that you access and use on the Website; and
Information about your computer or mobile device and internet connection, including your IP address, operating system, browser type, mobile carrier, and mobile device type.
The information we collect automatically is statistical data and may include personally identifiable information. It helps us to improve our Website and to deliver a better and more personalized service, including by enabling us to: estimate our audience size and usage patterns; store information about your preferences, allowing us to customize our Website according to your individual interests; speed up your searches; and recognize you when you return to our Website.
Data Collection Technology. We may use various technologies to enable automatic data collection, including:
Cookies (or browser cookies). A cookie is a small file placed on the hard drive of your computer. You may refuse to accept browser cookies by activating the appropriate setting on your browser. Each browser is a little different, so look at your browser Help menu to learn the correct way to modify your cookies. However, if you select this setting you may be unable to access certain parts of our Website. Unless you have adjusted your browser setting so that it will refuse cookies, our system will issue cookies when you direct your browser to our Website.
Flash Cookies. Certain features of our Website may use local stored objects (or Flash cookies) to collect and store information about your preferences and navigation to, from, and on our Website. Flash cookies are not managed by the same browser settings as are used for browser cookies. To learn how you can manage your Flash cookie settings, visit the Flash player settings page on Adobe's website. If you disable or refuse cookies, please note that some of the parts of this Website may be inaccessible or not function properly.
Web Beacons. Pages of our the Website and our e-mails may contain small electronic files known as web beacons (also referred to as clear gifs, pixel tags, and single-pixel gifs) that permit us, for example, to count users who have visited those pages or opened an email and for other related website statistics (for example, recording the popularity of certain website content and verifying system and server integrity).
Google Analytics. In addition to using cookies and related technologies as described above, we may use Google Analytics to help us understand how our customers use our Sites. You can opt-out of Google Analytics here: https://tools.google.com/dlpage/gaoptout.
Google Adwords. We may also use third party vendor re-marketing tracking cookies, including the Google Adwords tracking cookie. This means we will continue to show ads to you across the internet. As always, we respect your privacy and are not collecting any identifiable information through the use of Google's or any other third party remarketing system. If you don't want to see our ads, you can opt-out of interest-based advertising here http://optout.networkadvertising.org/.
Do-Not-Track Signals
Some browsers incorporate a "Do Not Track" ("DNT") feature that, when turned on, signals to websites with which they communicate that you do not want to be tracked. Because there is not yet an accepted standard for how to respond to a DNT signal, we do not currently respond to DNT signals on this Website.
How We Use Your Information
We use information that we collect about you or that you provide to us in the following ways:
To contact you about our properties or services that may be of interest to you;
To manage our relationship with you, such as asking you to take a survey or provide feedback on our services;
To carry out our obligations and enforce our rights arising from any contracts entered into between you and us, including billing and collection;
To notify you about changes to our properties, this Website or new services we offer;
To administer and protect our business and this Website, including data analysis, testing, system maintenance, support, reporting and hosting of data; and
For any other purposes with your consent.
Disclosure of Your Information
We may disclose information that we collect about you or that you provide us in the following ways:
To contractors, service providers, and other third parties we use to support our business and who are bound by contractual obligations to keep personal information confidential and use it only for the purposes for which we disclose it to them.
In connection with a reorganization, merger, sale, joint venture, assignment, transfer or other disposition of all or any portion of our business for the purpose of evaluating and/or performing the proposed transaction (including in connection with any bankruptcy or similar proceedings). In the event the transaction does not go through, we will require, by contract, the other party or parties to the transaction not to use or disclose your personally identifiable information in any manner whatsoever for any purpose, and to return or destroy such personally identifiable information.
To unaffiliated third parties when we believe its release is appropriate to comply with the law, enforce or apply our agreements, or protect the rights, property or safety of our company, our users or others. This includes exchanging information with other unaffiliated third parties in connection with fraud protection and credit risk reduction.
To comply with a legal process, such as a court order, subpoena, search warrant, or law enforcement request.
We may disclose, without restriction, aggregated or de-identified information about our Website users.
Choices Regarding Your Information
We strive to provide you with choices regarding your information. You may opt-out of automatic data collection by following the instructions described in Data Collection Technology, above. You may also opt-out of receiving communications from us. If we contact you by email, you can use the unsubscribe mechanism provided in the email. If we contact you by phone or text message, you can let us know that you do not want us to contact you in the future. You can also contact us at admin1@fulmerrealty.com to request that you not receive any further communications from us.
Data Security
We have in place what we believe to be reasonable physical, electronic and managerial procedures to safeguard and help prevent unauthorized access of, maintain data security for and correctly use the information you have provided. Although such efforts are intended to ensure the confidentiality of your personal information available to us as a result of your use of our Website and services, we cannot and do not warrant or guarantee the absolute safety and security of your personal information.
Special Note for Parents
Our Website and services are intended for a general audience and were not designed for children. We do not knowingly collect personally identifiable information from anyone under the age of 18.
Changes to This Privacy Policy
We reserve the right to make changes to our Privacy Policy from time to time for any reason. Such changes, modifications, additions or deletions shall be effective immediately upon posting, unless otherwise indicated. We encourage you to periodically check back and review this Privacy Policy so that you always will know what information we collect, how we use it and to whom we disclose it.
Questions
If you have any questions about this Privacy Policy, please contact us at admin1@fulmerrealty.com.
Effective Date: 9/21/2020 4:30:00 PM
Digital Millennium Copyright Act Notice
Claims of Copyright Infringement & Related Issues (17 USC § 512 et seq.)
We respect the intellectual property rights of others. Anyone who believes their work has been reproduced in a way that constitutes copyright infringement may notify our agent by providing the following information:
a. Identification of the copyrighted work that you claim has been infringed, or, if multiple copyrighted works at a single online site are covered by a single notification, a representative list of such works at the site;
b. Identification of the material that you claim is infringing and needs to be removed, including a description of where it is located so that the copyright agent can locate it;
c. Your address, telephone number, and, if available, e-mail address, so that the copyright agent may contact you about your complaint; and
d. A signed statement that the above information is accurate; that you have a good faith belief that the identified use of the material is not authorized by the copyright owner, its agent, or the law; and, under penalty of perjury, that you are the copyright owner or are authorized to act on the copyright owner's behalf in this situation.
Upon obtaining such knowledge we will act expeditiously to remove or disable access to, the material. Please be aware that there are substantial penalties for false claims.
If a notice of copyright infringement has been wrongly filed against you, you may submit a counter-notification to our agent. A valid counter notification is a written communication that incorporates the following elements:
a. A physical or electronic signature of the poster;
b. Identification of the material that has been removed or to which access has been disabled and the location at which the material appeared before it was removed or access to it was disabled;
c. A statement under penalty of perjury that you have a good faith belief that the material was removed or disabled as a result of mistake or misidentification;
d. Your name, address, and telephone number; a statement that you consent to the jurisdiction of federal district court for the judicial district in which your address is located, or if your address is outside of the U.S., for any judicial district in which the service provider may be found; and that you will accept service of process from the complainant.
Notices of the foregoing copyright issues should be sent as follows:
By mail:
Fulmer Realty, LLC
4129 CR 319
La Vernia, TX 78121
By e-mail:
admin1@fulmerrealty.com
If you give notice of copyright infringement by e-mail, an agent may begin investigating the alleged copyright infringement; however, we must receive your signed statement by mail or as an attachment to your e-mail before we are required to take any action.
This information should not be construed as legal advice. We recommend you seek independent legal counsel before filing a notification or counter-notification. For further information about the DMCA, please visit the website of the United States Copyright Office at: https://www.copyright.gov/.